News Briefs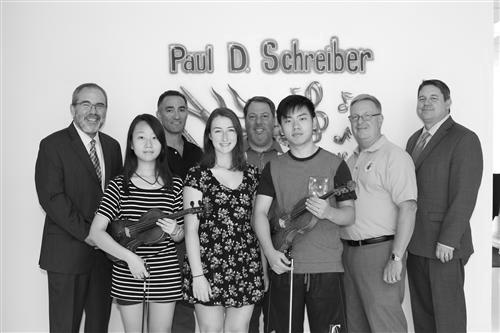 Asbestos Abatement
Since the beginning of the school year, students have been noticing signs on classroom doors, stating the possibility of asbestos going around the school. Asbestos, a soft gray mineral commonly used as building material before the 1980s, now poses serious health risks to teachers and employees.  Over time, through natural deterioration or construction, the asbestos dust can enter the air and expose students to the risk of serious lung diseases, such as lung cancer.
"We're doing construction right now in the science labs, and we're going to be doing window replacements along with redoing the auditorium.  During times of construction, asbestos can sometimes be identified," said Mr. Ira Pernick. "Anytime that there is construction, we have to engage in what's called asbestos abatement, which means that any asbestos that is identified is removed safely, and part of that, the legal requirement, is to post signs informing people that this process will be taking place.  All of it takes place after school hours."
Mr. Pernick also pointed out that all of the guidelines on how to safely remove asbestos are being followed.  However, despite Mr. Pernick's reassurance to students that the asbestos poses no harm, many remain concerned for their health.
"I actually wasn't aware of the possibility of asbestos going around the school, but now that I am, I'm a bit concerned." said freshman Victoria Kefalas.
~ Jackeline Fernandes
All State
Seniors Ellie Bain and Andrew Lu, and junior Solbi Oh have been selected to perform in the New York State Music Association Winter Conference.  Lu and Oh will perform in the All State Orchestra, while Bain will serve as an alternate for All State Chorus.
These musicians were selected to represent Schreiber by auditioning for the New York State School Music Association, or NYSSMA.
"It's definitely an honor to be part of All State because I've been playing for less than 6 years and I really didn't expect to be part of it, so I am really thankful," said Oh.
Thousands of music students in New York auditioned for All State.  In addition to their NYSSMA scores, students were selected based on their individual auditions last spring or their performances in different music festivals throughout the year. All-State involves almost 4,000 participants each year.
"I did this audition in April for an organization and basically they just choose people to be accepted into the orchestra," said Lu.
Not only do students get accepted for the All-State through their NYSSMA scores and various auditions, but they are also considered based on recommendations from their orchestra and chorus teachers.  Oh was recommended by her private teacher and Orchestra teacher Mr. Anthony Pinelli for All-State during the last school year.
"We play our piece in front of an All-State adjudicator, and they evaluate our piece and rank us," said Oh.
Bain was recommended for All-State by chorus teacher Mr. John Speizio.
"To be even considered you have to audition through NYSSMA," said Bain.  "Being from Long Island, it's even more competitive, so you basically have to get a 100 score to even get considered."
The New York State Music Association Winter Concert will take place in Rochester, New York at the Rochester Convention Center from Dec. 1 to Dec. 4.
~ John Alexander