Andy Warhol's art pops at the Whitney show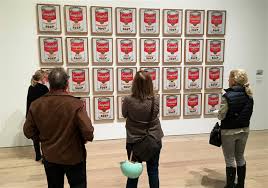 Up until March 31, the Whitney Museum is hosting a large exhibit of works by the famous American artist popular in the 1950s and '60s, Andy Warhol.  He is credited with being a trailblazer for the pop art movement.  He is most famous for his eye-catching Campbell soup paintings, colorful portraits of famous people, and other unique, nuanced pieces. 
The museum opens at 10:30 a.m. every morning, but the line starts forming at least a half an hour before then, so it's best to purchase your tickets online ahead of time.  
As guests enter the museum, they are met with a bustling lobby full of curious people, along with the sight of the rigid zig-zagging staircase leading through the exhibit.  The museum was teeming with people both young and old, especially since tickets for those 18 and under are free.  Warhol's numerous works consumed close to three floors of the museum, with even the learning center featuring a few of his pieces.
Guests are instructed to start from the third floor, at the top, and work their way down.  It is quite the workout going up and down the stairs, but it is well worth it.  The top floor is the largest, housing the most expansive collection. The first piece that visitors are greeted with is a huge wall of green camouflage prints.  Then, the gallery branches into various paths for visitors to explore, one of which is a hallway that is covered floor to ceiling in fluorescent yellow and pink cow portraits. This leads into a room featuring Warhol's famous flower prints.
Visitors are also encouraged to look through some of Warhol's sketchbook work. Although these sketches stray from his more famous pop art style, they provide another dimension to Warhol's talents and contrast his other pieces nicely.
On the first floor diagonally across from the gift shop is the final part of the Warhol exhibit, which is exclusively portraits of people of ranging degrees of fame that Warhol encountered. This place even includes a few of his self-portraits.  These portraits line the walls from floor to ceiling, a showcasing technique often repeated throughout this exhibit. Although guests are boxed in by these faces staring at them, the various colors of the portraits offer a fresh perspective.
For this round of exhibits at the Whitney, there is certainly a variety of displays that visitors can feast their eyes on.  All of them are undoubtedly going to be thought-provoking and visually stimulating.  The expansive crowds in attendance highlight the significance of Warhol's art and the lasting impact they continue to have nearly 50 years after their first showcase.