The impact of COVID-19 on college tours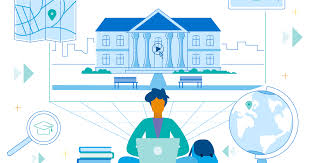 Emma Sy, Staff Writer
November 18, 2020
Due to COVID-19, many colleges have shifted their tours from in-person to online.  On-campus tours are expected to resume in the spring, but with the uncertainty of the pandemic, nothing is set in stone.  As a result, the number of online college tours have dramatically increased. Colleges use these tours to help students get a better feel for the school and campus, while remaining safe in their homes.  This is a beneficial way for students who live thousands of miles away to learn more about a college.  It is also helpful for students who are just starting their college process, especially if they are trying to be recruited for sports.
"I've been on a couple of virtual tours so far this year including Amherst College and Williams College because I am planning on playing/doing a college sport and junior year is recruiting year.  I personally like the virtual tours because they help me learn more about what the experience would be like attending and living at the school," said junior Kiera Darnell.
Virtual tours are much more convenient for students who do not have an accessible form of transportation to visit colleges. or the ability to afford the travel expense for in-person college visits.  Virtual tours are more time convenient during the school year, when students are focusing on their grades or after school activities.  Virtual tours give students the flexibility to do tours on their own, so they do not have to block out days at a time for college visits.
"Both of my parents work, so it's hard for me to find transportation for in-person tours.  I personally like the virtual ones because it gives enough information about the school, and since I know my interests, it's easier for me to do the virtual tours from home instead of actually visiting," said junior Olivia Platt.
To learn more about these college tours, students should  join the mailing lists of their college of interest to learn about upcoming virtual events.  There will be plenty of available virtual options to choose from, in addition to Zoom information sessions.  College websites enable students to tour a college campus while offering interactive photos, videos, and more.  Many of these virtual tours are accompanied by a student guide that provides details about the school.  To join a virtual tour, visit the school's website to learn more information about their schedule.
  Are virtual tours equally helpful as in-person tours?  It depends on who you ask, but it seems that colleges are trying their best to make them as beneficial as possible.  Students who have done both in-person and virtual tours of the same school would be the best judges to  compare the experiences.
"I've been on both virtual and in-person tours of John Jay College, and I thought they were pretty similar in format with how it worked.  It was a little easier to ask questions during the in-person tour since there was a guide with us to answer any questions that were asked, but overall I found both pretty useful," said junior Marissa Cichon.
During a unique time like this, virtual tours are becoming more and more popular.  Although they may not give you the same experience as visiting the school in-person, they are the safer and more convenient version of in-person tours.