Greek Festival on the Harbor returns to Port Washington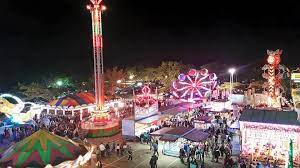 While the month of September signals the end of summer, it is also responsible for bringing countless beloved events to Port Washington.  One of these events is known as the Greek Fest.  The Festival is to be held on the weekend of September 24th at North Hempstead Beach Park.  This event is the perfect opportunity to have an exciting night out with friends and family, as well as appreciating some Greek culture. 
The Greek Festival is hosted every year by the Archangel Michael Greek Orthodox Church. The Festival is an important event for the church because it allows them to raise profits, immerse people in their culture, and provide everyone with a good time.  The festival attracts residents of Port Washington, young and old.  Many students have already cleared their schedules, and look forward to attending the festival once again this year.
"The Greek Festival is always so much fun. I have been going with my family ever since I was little.  The festival is a really nice event that brings the community together in such a fun way.  There is so much to do at Greek Fest, and the food there is always amazing," said Junior Chloe Fanous.
The Greek Festival offers many different activities.  For thrill seekers, carnival rides such as The Zipper and The Paratrooper are an all time favorite.  For those who enjoy a slower paced ride, there will also be timeless classics such as the Ferris Wheel.  Some other beloved rides that will make an appearance include The Fun House, Bumper Cars and The Swings.
"The carnival rides are one of my favorite things about Greek Fest.  I think I like The Swings the best because the view is incredible.  You can see everything up there, from the colorful festival lights to the harbor.  I always go twice on The Swings, I never get sick of it," said Senior Tessa Klugman.
Those who plan on attending the Greek Festival this year should plan on bringing their appetite along with them.  There will be a wide variety of classic Greek dishes for guests to enjoy.  Foods such as Gyros, Pitas, Souvlaki, and more will be for sale.  Most of these dishes will be made from small businesses, and can be found in stands all over the boardwalk.  For dessert, there will be stands serving carnival favorites like fried dough, oreos, ice cream, and cotton candy.  Or perhaps order a Lokma, a classic Greek dessert at the Loukoumades stand.  The treat is a mediterranean style doughnut that is coated in glazed honey.  The amazing cuisine is just one of many ways to immerse yourself into the culture at Greek Fest.  
"I go to the Greek Fest every year.  It's a great activity to do with friends.  I really enjoy the games, Go Fish is my personal favorite because it has the best prize, a goldfish!  I can't wait to play again this year," said Junior Tarah Parmar.  
Another major aspect of the Greek festival is the performances that will be held.  Many traditional dances are performed, not only for entertainment, but for the celebration of Greek culture.  Along with these dances, traditional Greek music will be played live for all who are attending.  There will be a dance floor and countless musicians who are scheduled to appear for this incredible experience.  Raffles will also take place as a fundraiser for the church, and will have many exciting prizes in-store for winners.  One of these prizes include a stay at a NYC hotel, a Broadway show, and dinner.  Virtual raffle tickets can be purchased on the Archangel Michael Greek Orthodox Church website.
"Another thing that I enjoy about the Greek festival is the music.  It makes the entire night feel like a party!" said Senior Jocelyn Castillo.
The Flea Market is also another attraction at the Greek Festival.  It is a great way to raise money and reuse items.  There are many different products sold at great prices.  All in all, this annual fundraiser and carnival is always a favored event in Port Washington and  remains important in that it brings the community together for the celebration of Greek culture.